Become a Better Bike Rider... FASTER
Bike School is an online progression program that gives you access to coaching and personalized feedback. So you can become better.. FASTER. You will have access to our private coaching community along with 50+ how-to videos designed exclusively for Bike School Members.

You feel uncomfortable on your bike?

You lack confidence when riding a Skatepark/Bikepark or Pumptrack?

You're getting back into BMX or MTB and have no idea where to start?
❌ TOO OLD TO LEARN
We have seen so much progress from our members who are over 30. Since beginning bike school, I (Nic) have helped my dad take his confidence and jumping ability to a new height, pun intended. He just turned 50!
❌ UNTALENTED OR UNCOORDINATED
Getting better at BMX and MTB takes two things. It takes passion, and it takes outside feedback to shed light on your blind spots. You bring the passion, and we will provide the rest. Talent and coordination play a very small role in progression.
❌ ABLE TO PROGRESS FROM YOUTUBE
Well... Actually, you are. We have learned a lot of skills on YouTube. However, nothing on YouTube is laid out in a convenient way and the decent videos are buried by 1000's of terrible how-to videos. Plus we give you feedback/coaching.
❌ STUCK AND DEFEATED
It may feel like it. We have all been there. Sometimes all you need to overcome an obstacle is a different perspective from someone who has been there and conquered it. 
We want you to be better every single day.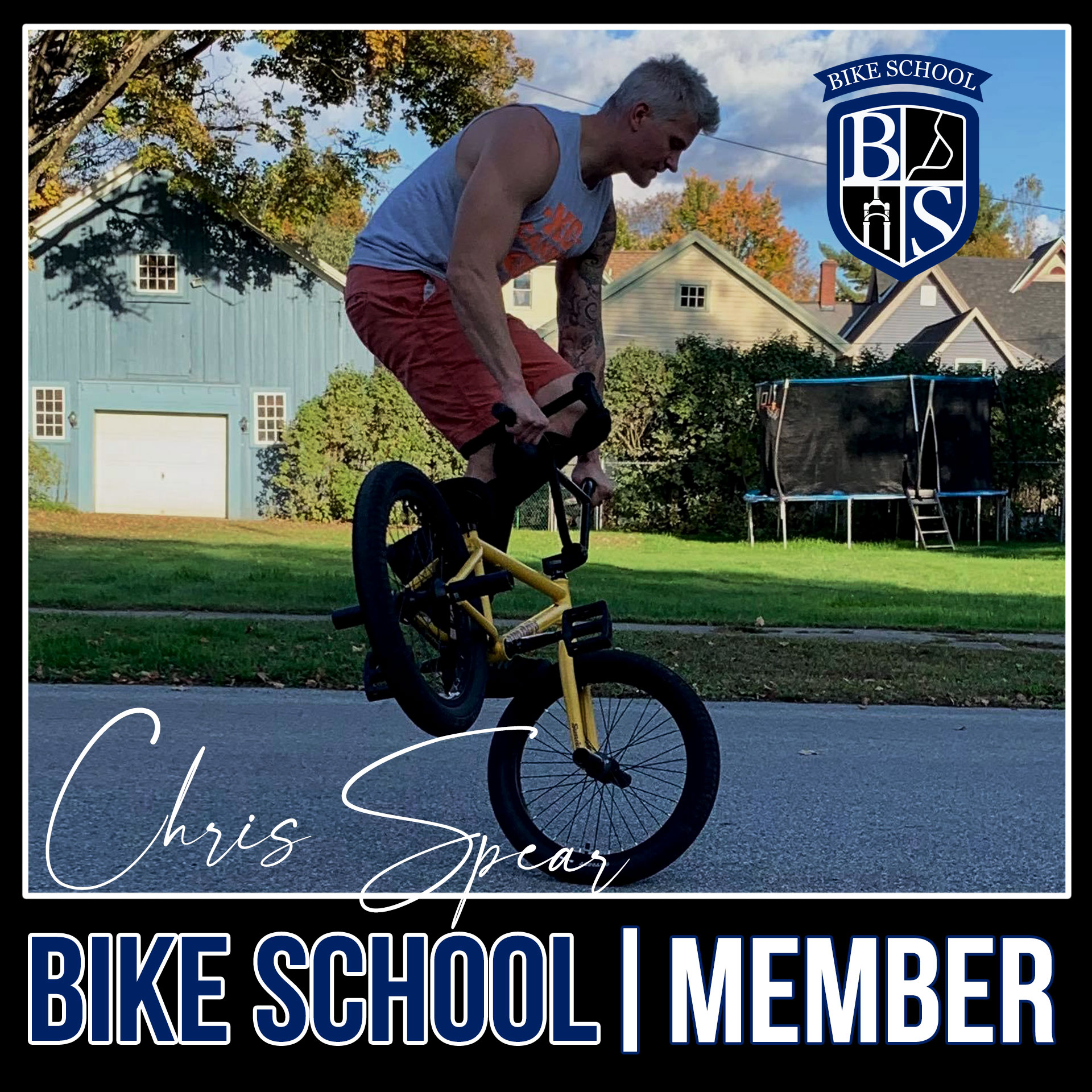 Chris - ⭐️⭐️⭐️⭐️⭐️
"Bike school is amazing! Nowhere else do you get online instruction in BMX while getting constructive tips and instructional feedback from experts. But what really makes it great is the community—people trying to get better: sharing failures, wins, and goals in a constructive way. For the cost you can't beat the value. It's something I look forward to daily. It's an amazing feeling to finally get that trick and to be able to share that with Nic, Doug, and people in the class. It is truly an amazing opportunity. If you really wanna ride BMX—this is how to get into it and improve. Can't say enough how fun & worth it bike school is!"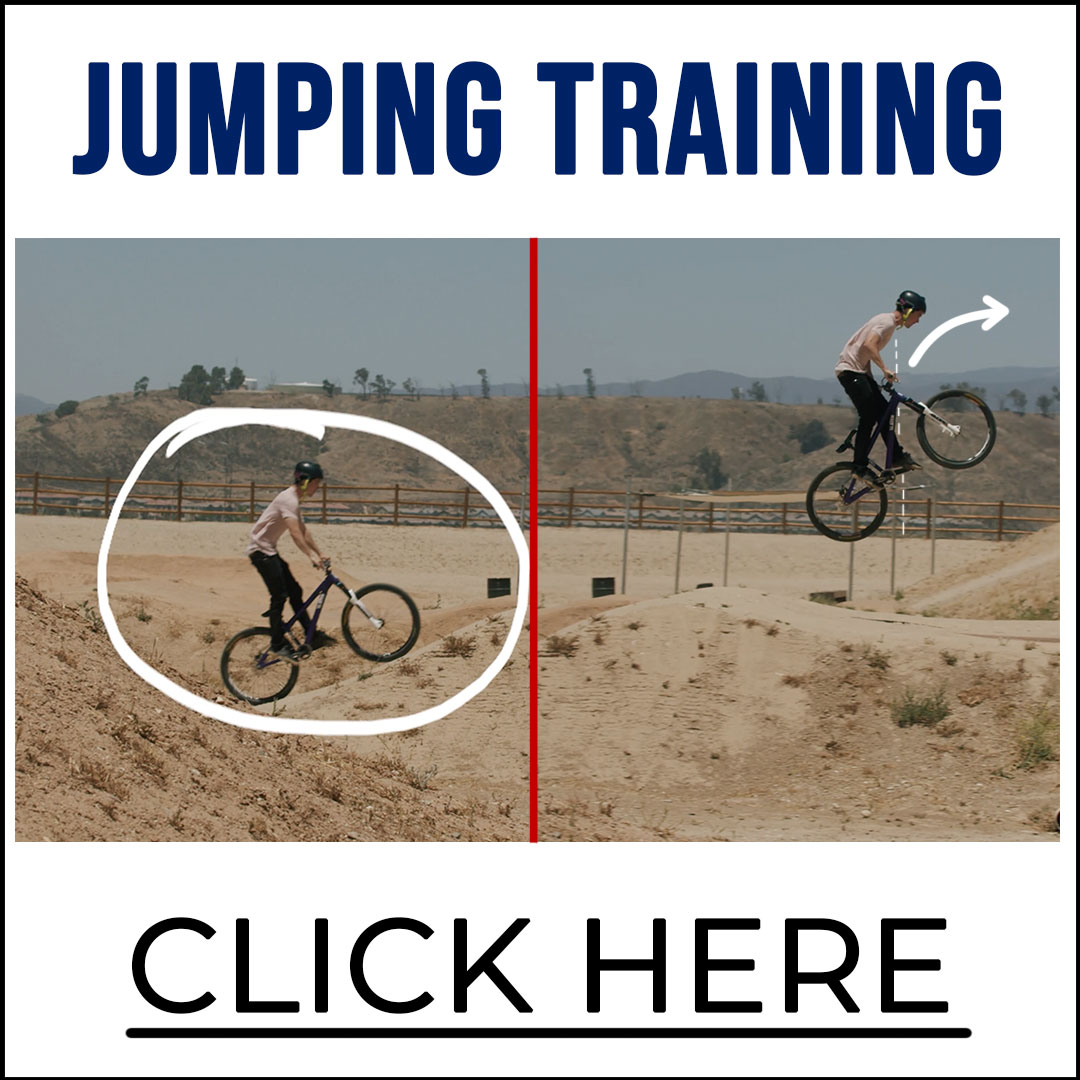 Straight from Bike School, we give you an inside look at the in-depth training that we use to help our members feel more comfortable flying through the air.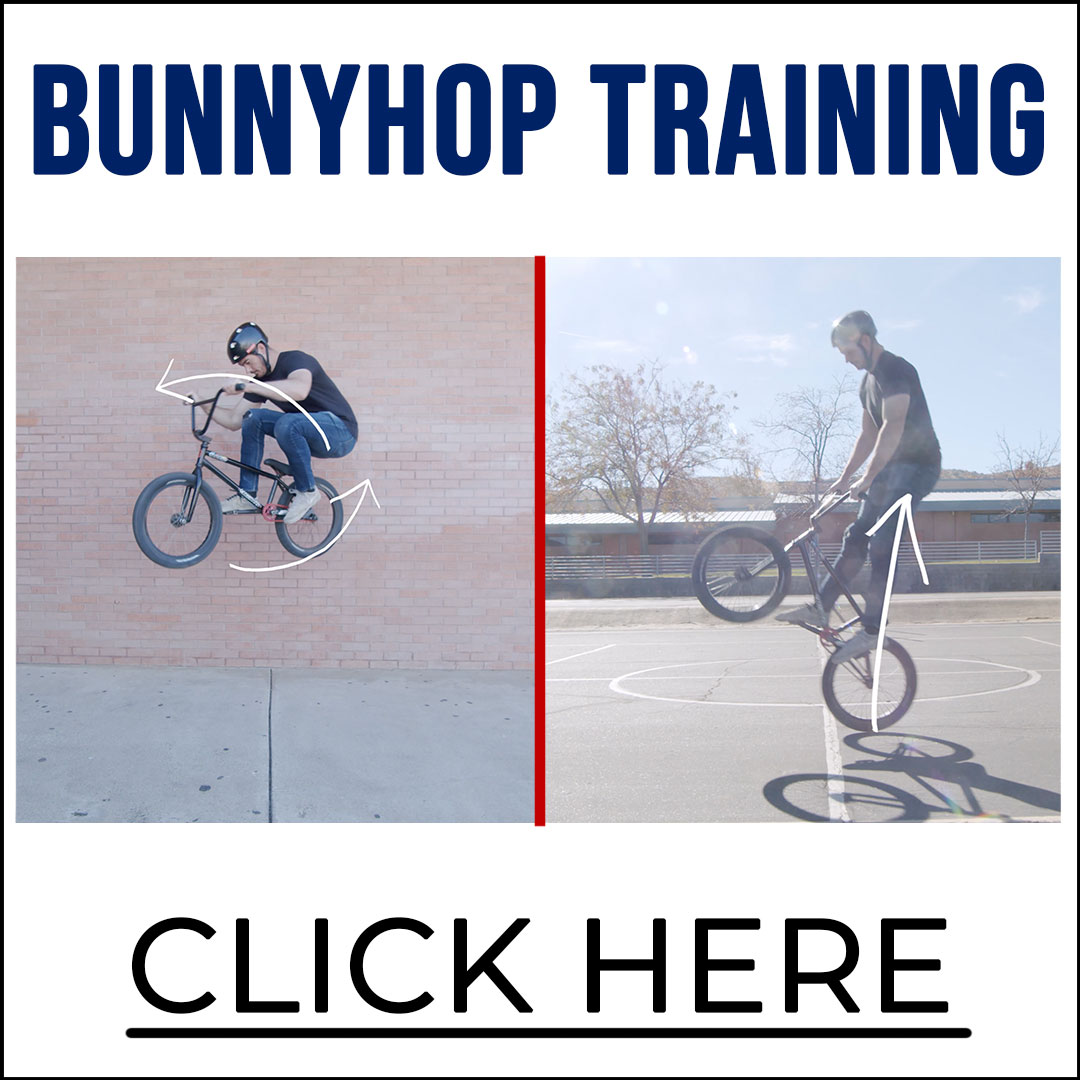 Learn the most fundamental trick. Bike School style. This video is straight from the program and shows you exactly how in-depth this course is. You're going to love it.
Bike School Member Feedback Session
Get constructive feedback on your trick attempts.
Understand what is going wrong and how to fix it.
Answers to any question you have.
Get praise and hyped up for crushing your goals.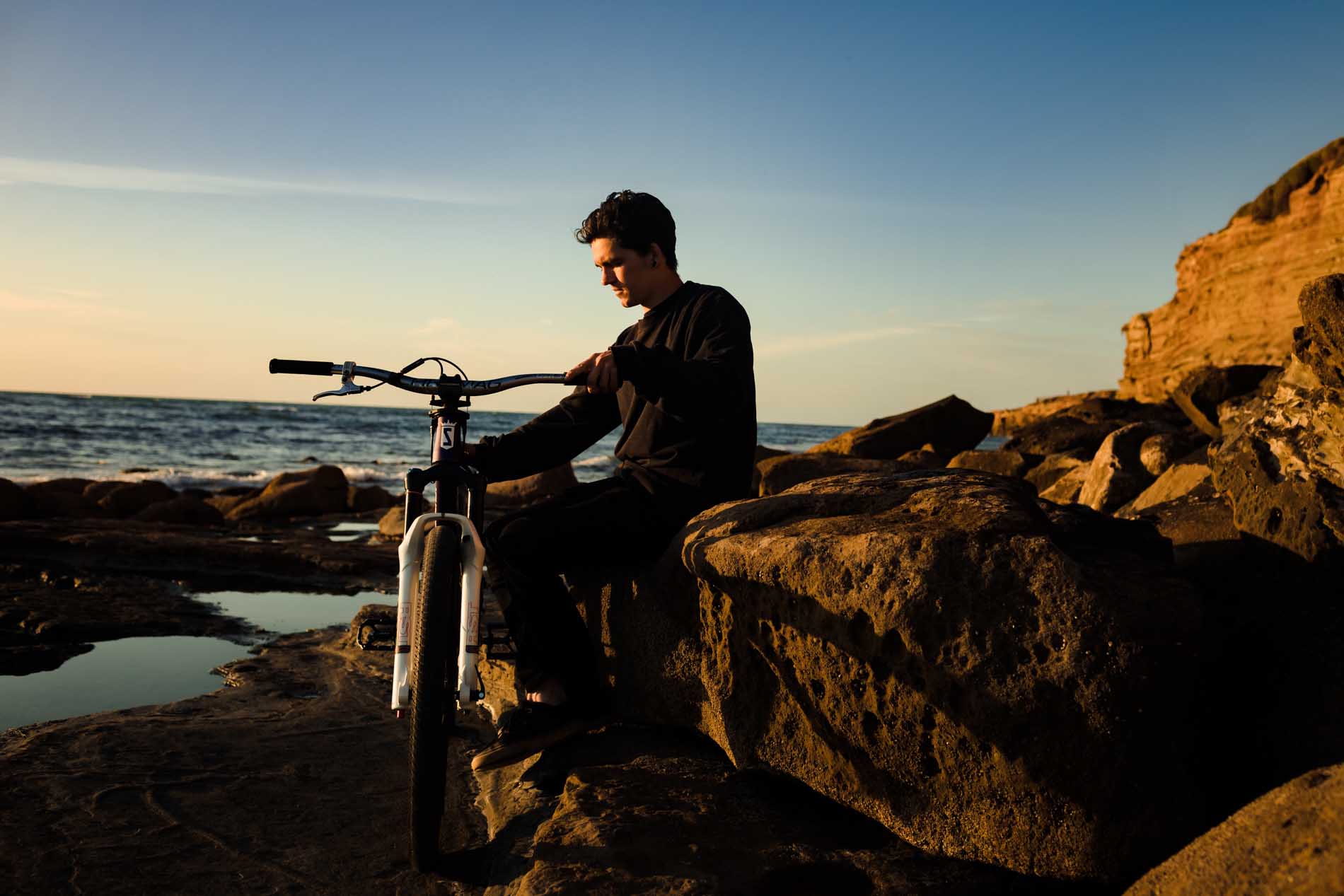 Hi, I'm Nic ✌️
My training wheels came off at 2 years old. I have been riding since literally before I can remember. It is a part of me. Even so, never in my wildest dreams would I have imagined I would be traveling the world, competing professionally, and creating a lifestyle around bikes. I have met some of the most special people that share my love for this sport.
My goal with Bike School is to welcome newcomers with open arms and build a community of individuals ready to grow their skills and share the love of the sport with one another.
I am ready to answer all the questions I asked and I am ready to show you a way of thinking that not only changes your riding but that you can apply to other aspects of your life.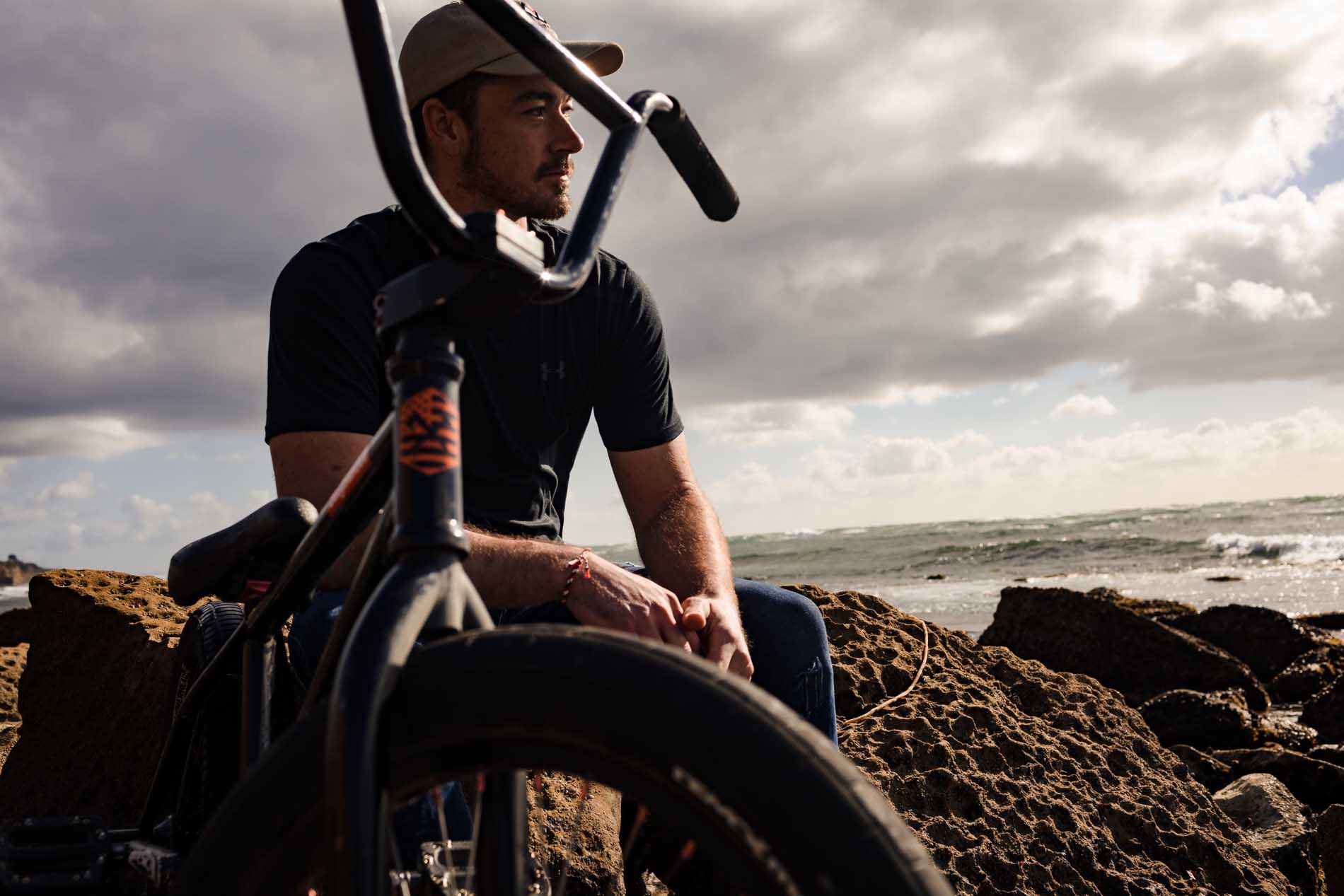 Hi, I'm Douglas 🤘
My goal in life is to help 1,000,000 people get into BMX. BMX has helped me see life through a new lens. Over the last 12 years, my bike allowed me to travel the world, meet new friends, and become the best version of myself.
Bike School is one of the many ways that I introduce people to the life-changing experience that we call Bicycle Moto-Cross
What can you learn?
We are always working on new ways to help you learn. Once you have purchased Bike School, you will have access to all updates and added lessons.

Perfectly Outlined
The lessons are outlined in the perfect way. We know that certain tricks influence others. So Bike School is laid out to build the foundation skills first. Making all tricks easier later on.

Interactive Action Plans
Most how-to videos leave you high and dry. Our action plans give you a way to develop what you learn in the lesson so you can learn at your own pace.

Progression Focused
Learning a trick is cool. But we are more concerned with showing you how to learn. Bike School shows you how to break down a trick, analyze it, attempt it, and conquer it. Not just "land it"

4k Slowmotion Examples
We spent thousands to ensure only the best quality. All of the videos are high quality with crystal clear slow motion to make analyzing easier.

Scientific Illustrations
Throughout the videos we pause and draw graphics that show you exactly what the body and bike should be doing at that point. This is a game changer.

Drills and Homework
What do you do after watching the extensive video? You do drills and homework obviously. Doug and Nic will give you the assignments. Don't worry, Bike School Homework is fun.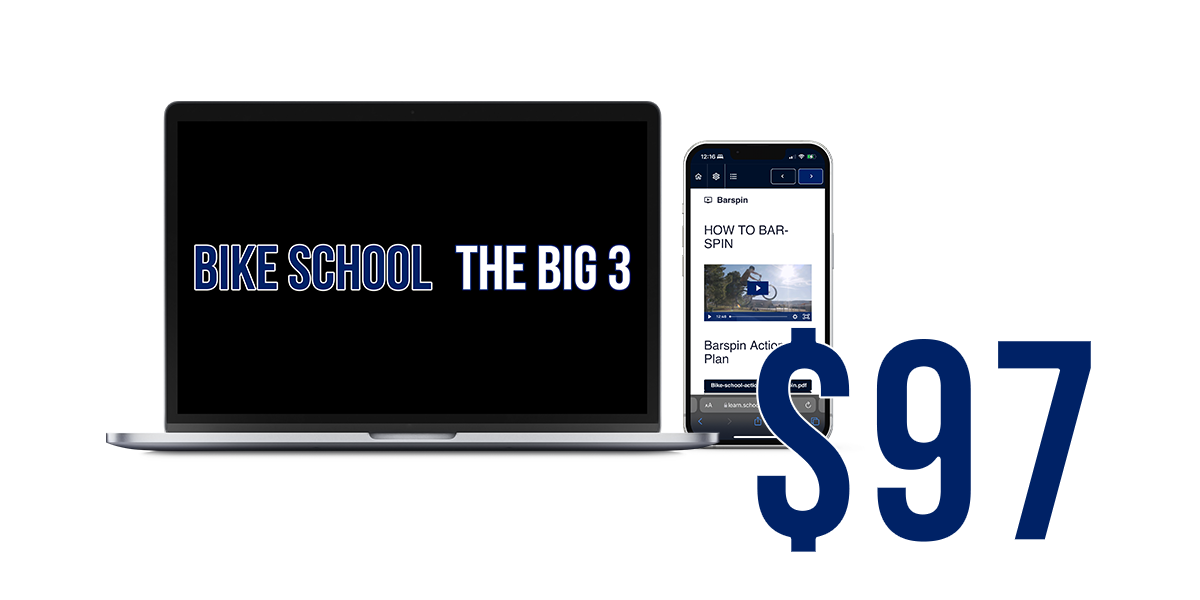 The Big 3: Tailwhip, Bar, Flip
The three tricks that every bike rider want's to learn. Over an hour of content on these 3 tricks alone.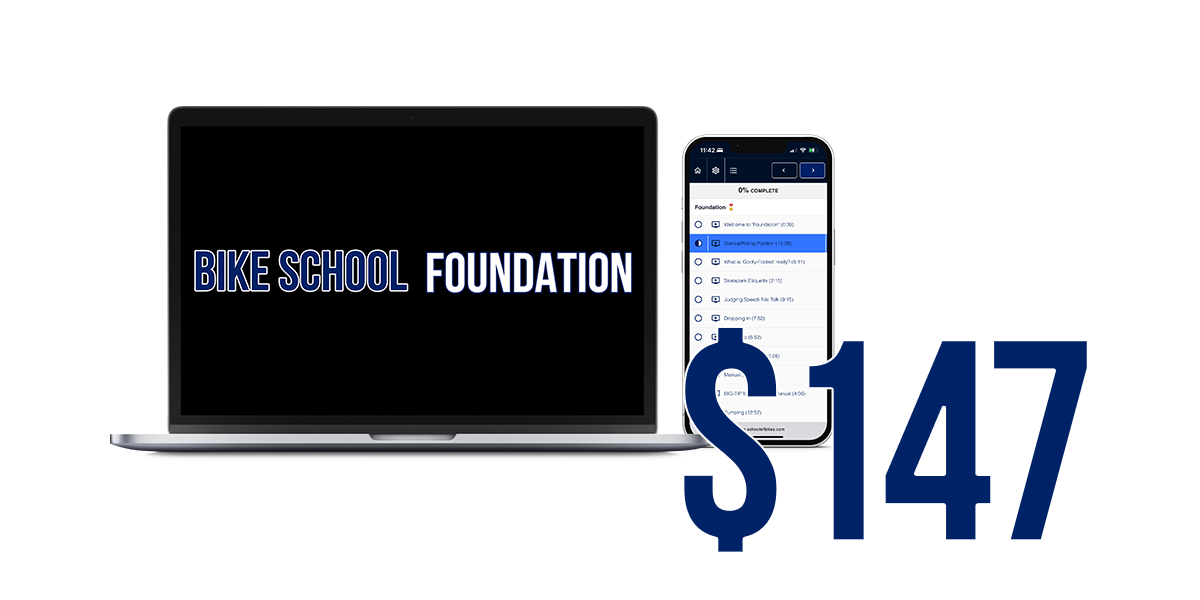 Bike School Foundation
Learn the core basics that allow you to ride like the pros. The basic things like "stance" "foot position" and "judging speed" take years to learn on your own through trail and error.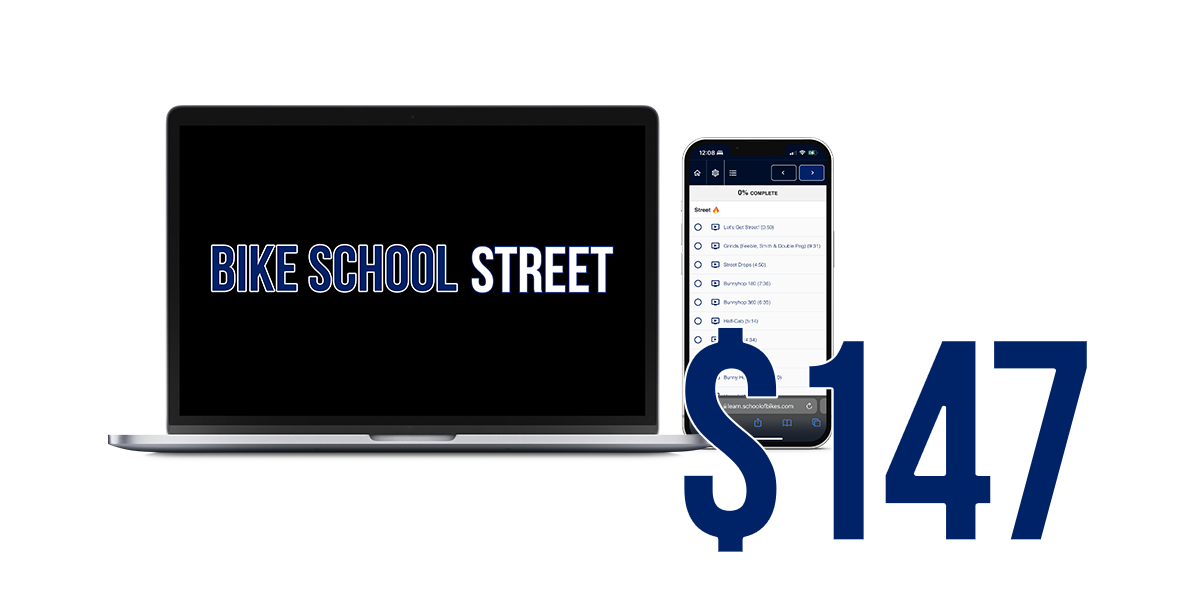 Bike School Street
All of the street tricks that you will ever want to learn. Focusing on street? We got you. 10+ in-depth videos laid out in an order that just makes sense.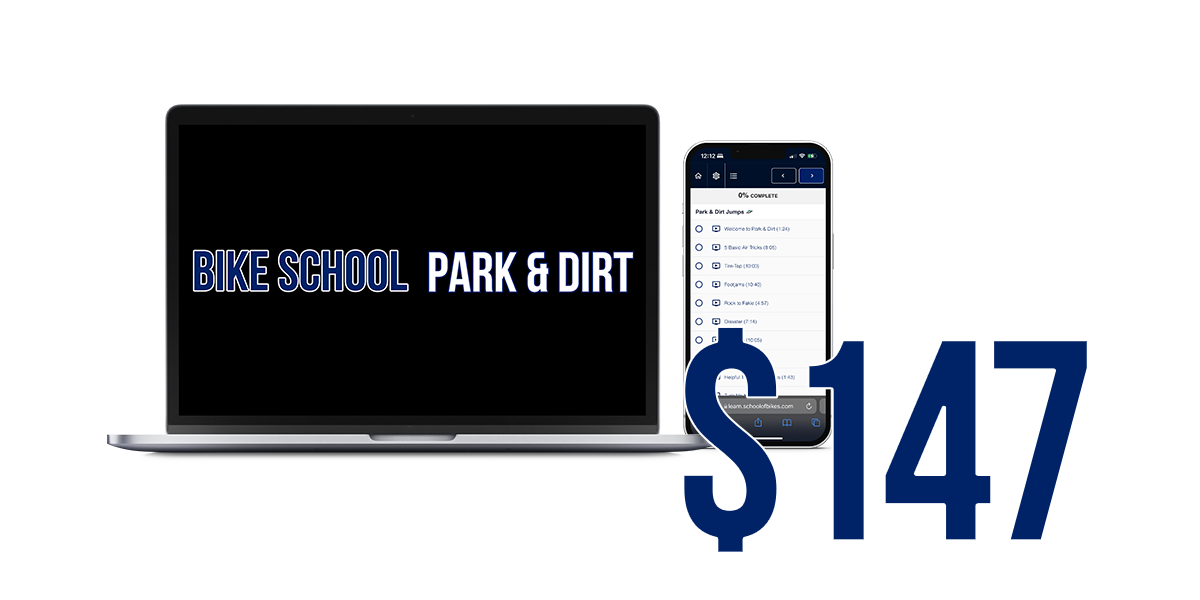 Bike School Park & Dirt
Once you conquer jumping and bike control, you are ready to fly through the air and take off your hands. Maybe your feet? Maybe both at the same time? Over 15 videos that progressively get more technical.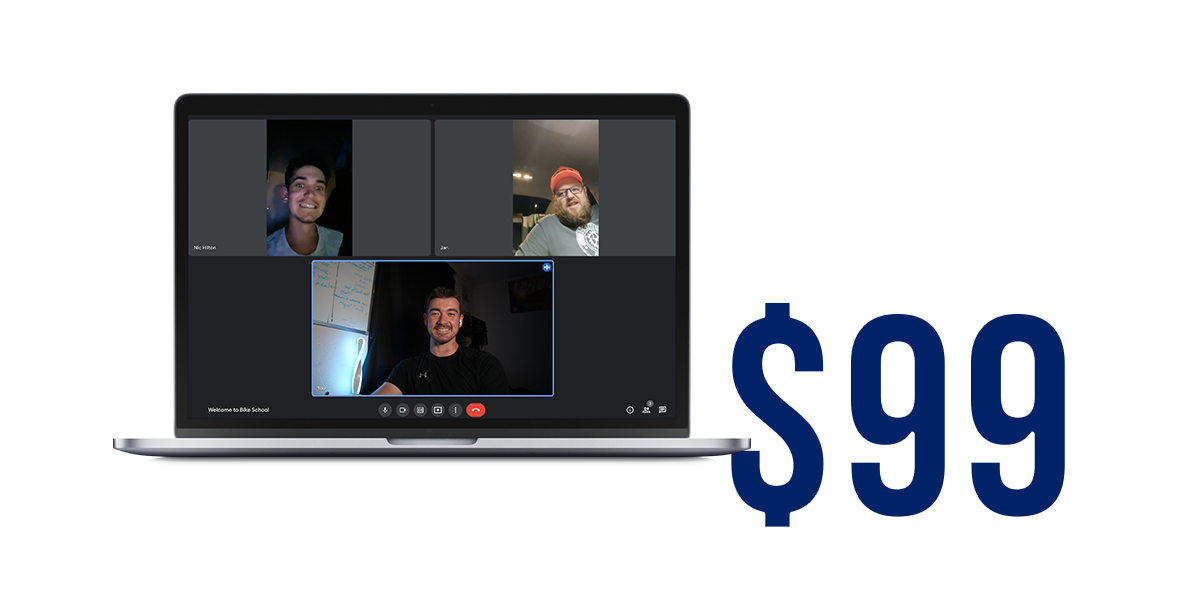 Exclusive Coaching Calls
Your success is important to us. That's why we sit down with our members 1 on 1 to talk about goals, struggles, and questions. This is literally priceless.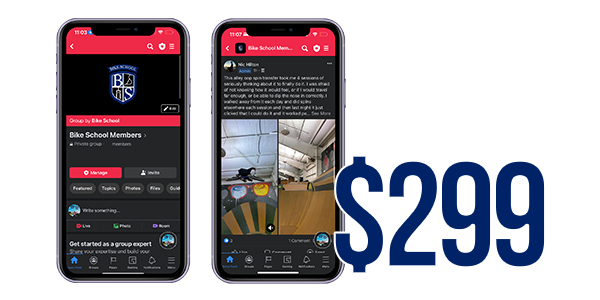 Private Coaching Community
You can post your videos anywhere and get feedback. However, in Bike School that feedback is from people who actually know what they are talking about. We have build an amazing community with a good group of people.